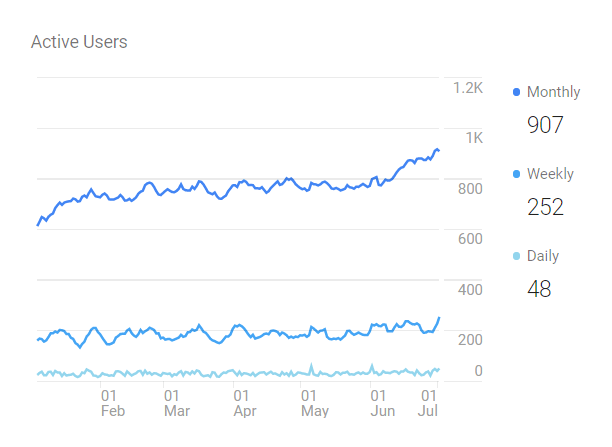 Jan 1 – Jul 1, 2018 vs. Jan 1 – Jul 1, 2019

Ralph Rubinov
Owner at George's Barber Shop
After dealing with Igor (CEO of Hit4Biz) our online traffic and website traffic increase tremendously from then till now. We definitely recommend (Hit4Biz) to anybody whoever interested to grow their business's online presence or growing the business in general.
The Strategy
George's Barber Shop team wanted to increase brand awareness, online visibility and walk-in traffic to the business. They had some negative experience with online ads like Yelp, Facebook in the past and didn't want to deal with it at that moment. After the discussion, the business owner and Hit4Biz team decided to go with three major strategies, which will help increase web traffic:
Search Engine Optimization (SEO)
Content Marketing
Social Media Management
The Execution
Hit4Biz's made an audit of the client's website to determine the current condition of it and find out new opportunities. After the key metrics were setted-up, accesses and all other information were shared, we started to implement the strategies and other parts of the service:
Managing local SEO
Created content for the website
Optimized calls to action on the site
Created social signals
Regular and consistent social media management
On-page SEO: Optimized titles tags, meta descriptions, alt tags, schema markup, heading tags, internal linking and more
Off-page SEO: Niche directory listings, relevant and local backlinks, guest posts, local and map citations
Ongoing maintenance, repairing and monitoring
The Results
Compared to the same period from January 1 – July 1 vs. previous 2018 year, the numbers extremely increased:
+900.07% website visitors
+230.02% search traffic
+847.32% online leads
+630.59% conversion rate
As a result of the marketing campaign, George's Barber Shop's website extremely increased its web traffic and ROI. Online leads transferred into the strong flow of offline traffic to the shops. For the period of January 1 to July of 2019, the traffic grew up to 900.07%, compared to the same period of the previous 2018 year. The business owner claims that most of the people who visit their locations say that they found it on google search and the website that we've been working on.
Ready to talk about your project?